While most organizations value process mapping as a useful business improvement tool, few managers think of process improvement strategies as a primary improvement approach. Process improvement strategies can, in fact, drive very powerful and sustainable business improvement. Defining, improving, deploying and maintaining strong business processes is a very effective method for creating competitive advantage.
While it is easy to see the many intangible benefits created through process mapping, it is much harder to calculate tangible profitability increases and other return on investment (ROI) benefits.
Summarized below are six ways process mapping can drive improvement and the eight ways those improvements can deliver powerful results.
6 Process Improvement Strategies
1. Define Business Processes.
Process maps provide the foundation for how work gets done and insights into what can be done to improve it. By defining and deploying strong business processes, an organization engages its employees in a valuable way, distributing responsibility and accountability closer to the work itself.
2. Improve the Customer Experience.
Behind every unhappy customer lays a broken business process. Improving the customer experience begins by aligning internal business processes to deliver better external customer outcomes. By systematically studying customers, an organization can build robust business processes that consistently meet their needs.
3. Reduce Costs.
By understanding cost drivers, an organization can improve its costs effectiveness. These costs come from four basic areas, including inputs, conversion, people, and supporting overhead. When organizations operate through strong standard business processes, the costs of goods and services become transparent, which facilitates visible and sustainable improvement.
4. Improve Process Efficiency.
Efficiency defines the extent to which a process performs relative to its full potential. Greater efficiency comes by delivering a greater output of goods and services relative to the assets required for that purpose. Less efficient organizations operate at a competitive disadvantage.
5. Improve Resource Productivity.
Organizations acquire assets with the express purpose of using them to produce profits. The productivity of those assets is derived from the ratio of outputs produced by the process relative to the resources required to produce those outputs. Assets include people, tools and equipment, facilities, information technology, and intellectual property. Few actually measure the extent to which assets serve their intended purpose.
6. Reduce Response Time.
By understanding the business processes that produce and deliver products and services to a satisfied customer, an organization can systematically analyze the time and activities behind that value creation. By removing non-value added tasks and time, any organization can dramatically reduce cycle times. An organization that builds consistent capability to deliver a faster response will enjoy a preferred position with customers.
8 Benefits Delivered
1. Improve Customer Loyalty.
Improving customer loyalty begins by understanding the internal business processes that must align to deliver better customer outcomes. Customer value is in the eye of the perceiver. Loyal customers are served through of a series of business processes that align to meet their needs.
2. Improve Business Partner Loyalty.
Engaging a key supplier in a process mapping effort can be a very powerful method for not only improving business performance but also increasing the valuable contribution of that key supplier. As the trend toward outsourcing continues to grow, treating key suppliers as business partners becomes far more important to a successful enterprise value proposition. Top suppliers want to come to the table with a "help me help you" partnership philosophy.
3. Improve Employee Loyalty.
Process mapping is best executed by involving those who do the work to define, analyze and improve their work. Not only does process mapping provide a very powerful analytical tool, it also provides a very beneficial employee engagement opportunity that forms the foundation for sustainable employee loyalty. Strong business processes are much easier to manage and contribute significantly to reduced stress in the workplace.
4. Grow Revenues.
Revenue growth comes from one of three sources, new customers, higher prices, or greater sales to current customers. All three of these sources are directly impacted by the quality of business processes that produce those outcomes. Sales Management Systems often lack definition and inadequately specify customer needs that get fulfilled downstream.
5. Reduce Expenses.
Expense reductions are the area most typically thought of when considering process mapping. Expense reductions can be found in the firm's cost of goods sold, including materials, labor, and overhead, as well as operating and support costs. Every business process produces an outcome, either physical or intellectual, and that outcome carries with it an associated cost, which can be assigned or allocated to that process.
6. Reduce Working Capital.
Working capital can be a substantial requirement in many business models. By studying process reliability and level of match-up in supplier - customer relationships, an organization is capable of minimizing the working capital required to satisfy customer needs. This reduced working capital can be seen in fewer inventories, lower accounts receivable, and reduced work in process.
7. Reduce Assets.
Organizations typically make substantial investments in facilities, information technology, people, knowledge, and equipment to provide the infrastructure necessary for success. These assets all enable the production of products and services that deliver customer value. Because of business process weaknesses, investments in these other assets yield are less productive. By managing weak business processes, an organization spends more dollars on other assets that underperform relative to their full potential.
8. Reduce Enterprise Risk.
Few companies operate today without some level of regulatory compliance governing their industry. By documenting and managing standard business processes, a company is in a far better position to mitigate the risk of compliance and catastrophic failure in the marketplace.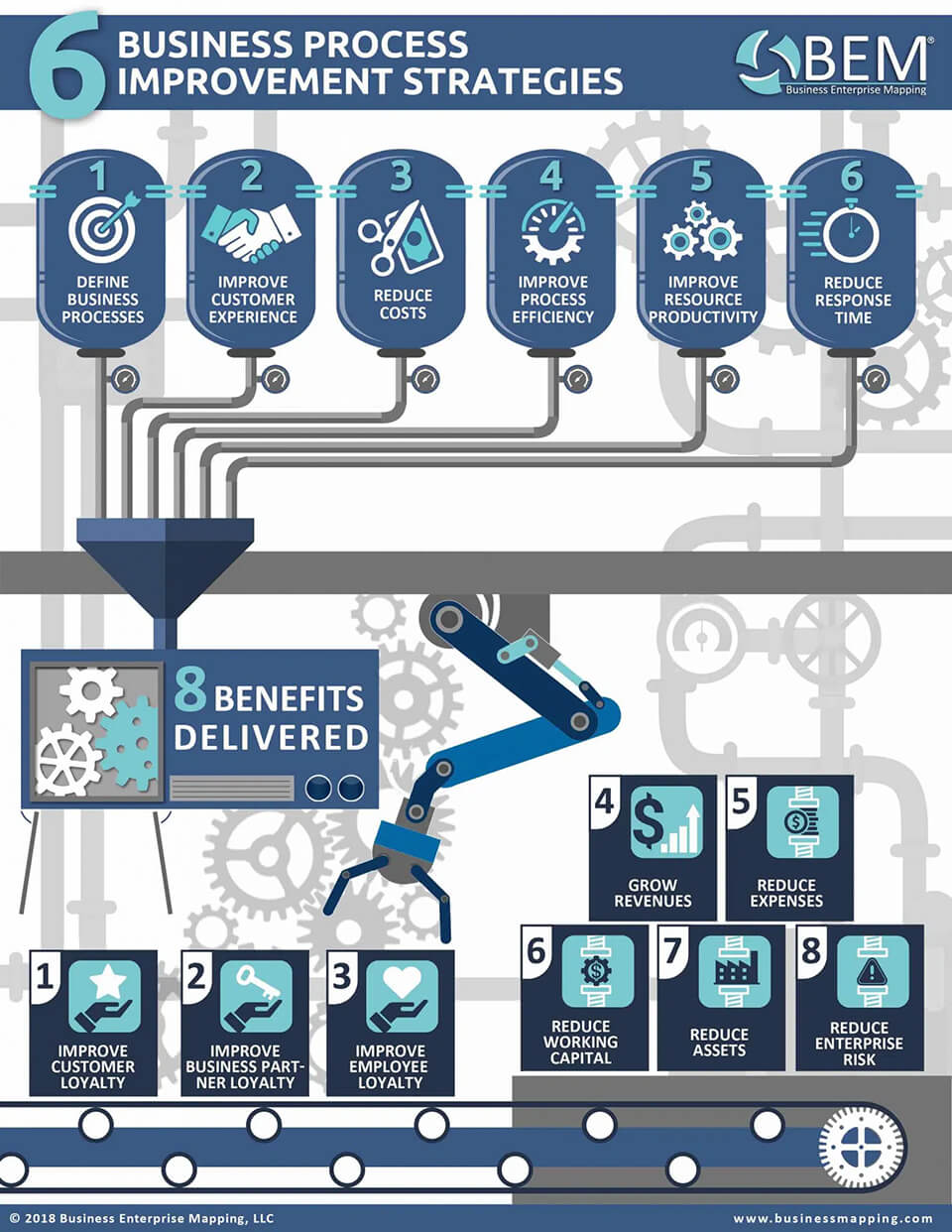 How Process Improvement Strategies Drive ROI
By using process mapping as the foundation for driving the six process improvement strategies discussed here, any organization can substantially and sustainably improve performance in different ways. Strong business processes represent an often misunderstood and highly valuable asset for any organization. While process mapping is a powerful and flexible tool, it is essential to know how to use process mapping improvements to deliver powerful results that help achieve your goals.