Organizations most often focus time and attention on direction, strategy and structure versus the process of getting work done. With this focus, it is easy to overlook the connection that strong business processes are needed to execute a successful strategy. Business processes provide the engine that enables leadership to realize its vision. And business process maturity measures the effectiveness of those business processes.
Clients have taught us that over 70% of all improvement opportunities are directly related to broken business processes. Every day we see processes that are undefined, not followed, difficult to execute, unmeasured, and loaded with non value-added work. When leadership doesn't make process performance a priority, it is very difficult to improve overall enterprise performance.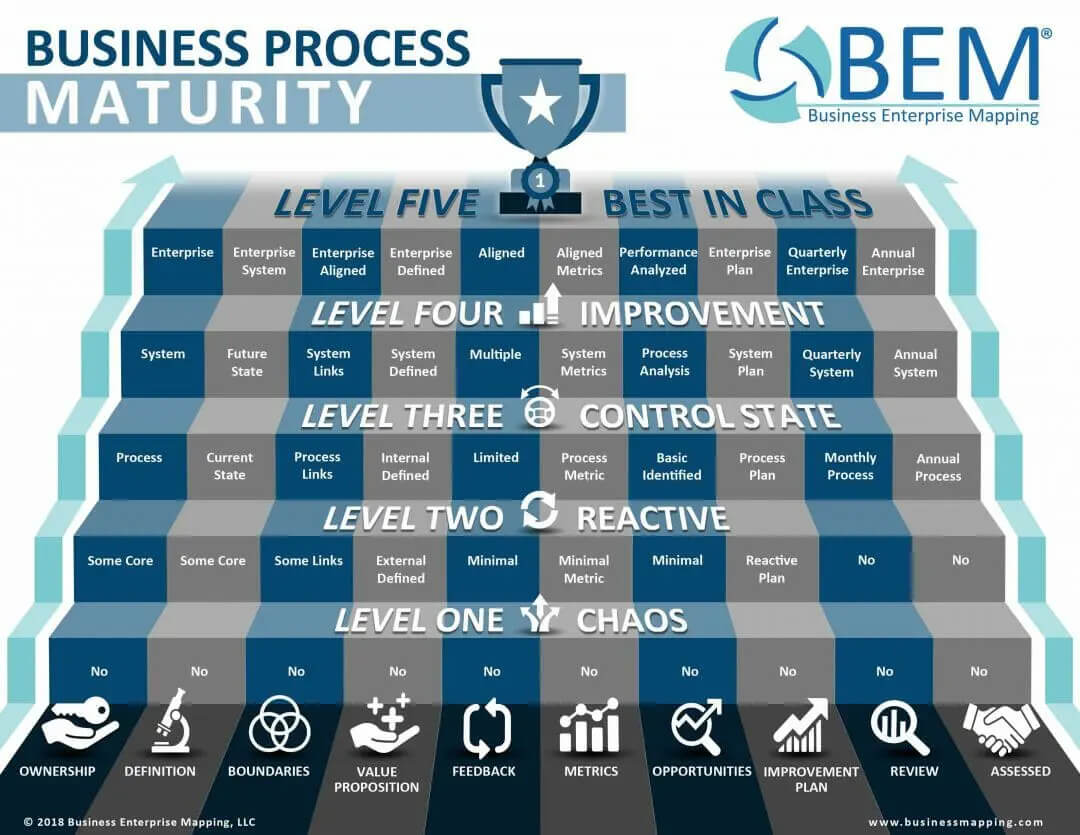 Business Process Maturity Table
The Business Process Maturity Index is a quick way to assess the quality of an organization's business processes against a standard set of best practices. The five maturity levels are summarized below.
Level 1: No Processes Defined.
The organization has limited process architecture in place and may or may not use standard operating procedures to define operations.
Level 2: Reactive State.
Processes have been defined utilizing some type of flow chart, or possibly swim lane diagrams, but lacks process ownership. The basic supplier, input, process, output, customer (SIPOC) architecture is generally understood and practiced, while useful process definition is fragmented. Minimal process metrics with limited feedback in are place. Most processes are running in an "open loop state", therefore reactive.
Level 3: Controlled State.
Processes have been fully defined with linked boundaries, which include good process ownership and specific process metrics with benchmarks. Process Owners have a good understanding of their value propositions, which are aligned to both internal and external customers, and continuously monitor feedback from primary customers. Positive results are readily available.
Level 4: Improvement to Goal.
Enterprise leadership has defined its business systems utilizing both system and process maps and can demonstrate excellent ownership at both a system and process level, including improvement to goals. Processes and systems show effectiveness in meeting customers' needs. The focus is on ensuring that processes and systems are not only effective but also increasing efficiency.
Level 5: Best-In-Class.
The enterprise, business systems, and business processes have been fully aligned to strategic business initiatives. The Enterprise Owner is now running the business utilizing the fully deployed Enterprise Management System (EMS).
The traditional organization structure has been replaced by a fully integrated, process-based management structure with proactive budgeting that is aligned with performance, systems, and strategy. Others view the enterprise as a best-in-class organization.
The Business Process Maturity Index above provides a quick and easy way to assess process maturity within any organization. It also provides a simplified roadmap, outlining the principles that must be addressed to build strong business processes that drive strong strategy.