Because we make our living implementing process-based management systems that improve organization outcomes, we are often asked to compare Business Process Management (BPM) with more traditional - vertical and hierarchical – organization structures. What follows is a comparison between Traditional Management vs Business Process Management within ten key organizational characteristics.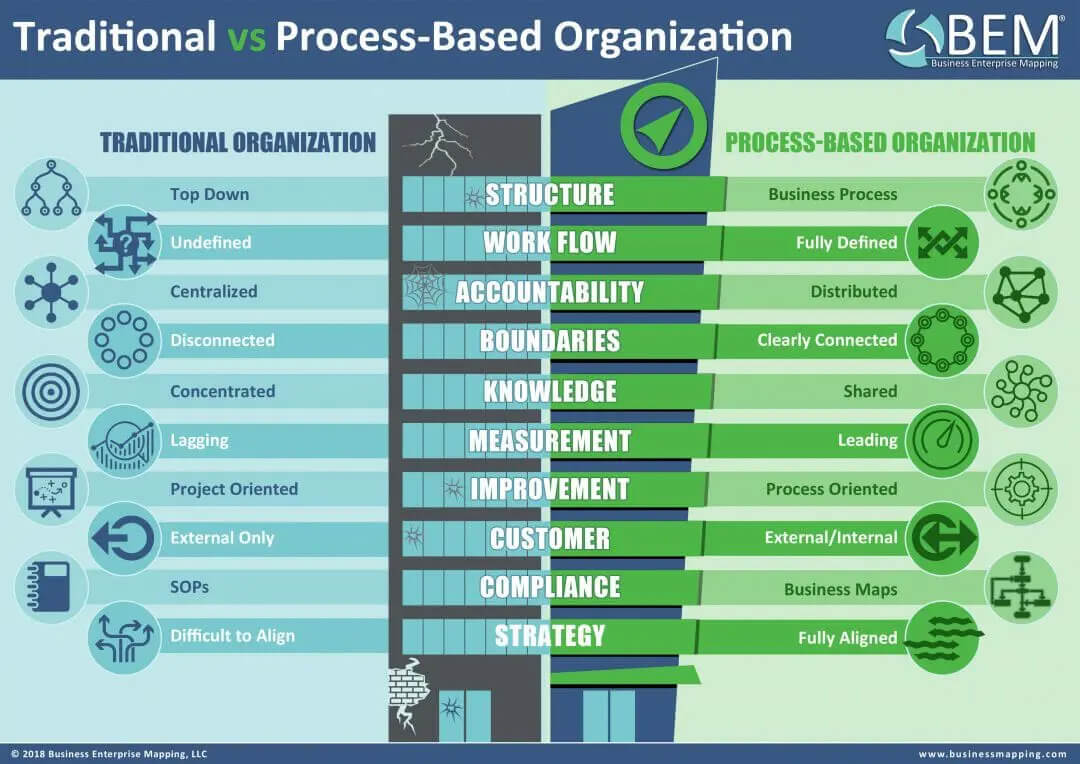 1. Structure.
Traditionally, the organization structure is aligned by departments, functions, and jobs at the desk level. Through BPM, the organization is aligned around business systems, business processes, tasks, and knowledge. By structuring around the work, the organization is able to execute better, match responsibilities directly to workflow, and hold people accountable to meaningful work-based outcomes.
2. Workflow.
In a traditional organization, workflow is generally undefined or sometimes defined solely through IT architecture. Under BPM, workflow is specifically standardized through employee defined business systems and business processes. By involving those who do the work directly in defining and improving the work, the organization is taking advantage of human assets that are capable of contributing far more value than usually seen.
3. Accountability.
Accountability is traditionally defined through a top-down, hierarchical organization structure, with responsibilities assigned from vice president to director to manager to supervisor to front line employee. Accountability in a BPM structure has far fewer layers and is defined by enterprise owner, business system owner and process owner. By clearing out excess layers, the organization can save expensive overhead costs and assign responsibilities directly to work-based business systems and processes.
4. Boundaries.
In a traditional organization, department silos are a common occurrence. Organization boundaries are typically undefined; creating barriers that must be overcome. Clearly defined boundaries are key to BPM, in addition to well understood and documented customer needs. Almost 20% of all improvement opportunities come from unclear boundary specifications, which lead to internal suppliers not meeting internal customer needs. The lack of boundary specifications represents one of the most common and difficult problems to improving organization performance.
5. Knowledge.
Knowledge is typically concentrated and centralized in a traditional organization. It is often held close to the vest by front line employees and treated in a parochial fashion to protect one's own job and self-interest. Through BPM, knowledge is documented, shared and distributed; it is transparent and stored at the point of use. BPM based knowledge management makes the valuable intellectual property assets owned by the organization readily available to all who need it.
6. Measurement.
Performance measurement is traditionally collected and managed at the department level, usually in the form of key performance indicators. These measures are lagging and reactive. With Business Process Management, organization performance measures are captured and monitored at the business process level, which provides leading, proactive, and actionable indicators of trends in the business.
7. Improvement.
In a traditional organization, performance improvement is typically managed as a series of projects designed to address isolated problems. These projects are treated as discrete events designed to solve a specific problem. BPM performance improvement is managed as an ongoing series of business system and process improvement projects with a never-ending purpose. Projects are designed to improve a business system or process in whatever manner delivers a better customer experience.
8. Customer Experience.
Traditional management's focus is usually only on the external customer. In BPM, business processes are built and linked through a series of aligned internal customer needs that ultimately deliver an improved external customer experience.
9. Compliance.
Traditional compliance efforts are typically based upon Standard Operating Procedures (SOPs) that are cumbersome to create, difficult to maintain, and not very useful to the business outside of compliance. Compliance requirements in a BPM environment are addressed through business system diagrams and business process maps, which have the advantage of not only achieving compliance standards but also delivering additional performance improvement. Process maps are far easier to build and maintain than SOPs.
10. Strategy.
Strategy execution is often difficult to implement in a traditional organization, as leadership has not established the cause-and-effect relationships between desired strategies and actual execution. Through BPM, the execution of strategy becomes far easier as organizational leadership fully understands the capability and cause-and-effect relationships between business systems and business processes, and the workflow improvement that is necessary to make strategic intention a reality.
Traditional Management vs Business Process Management
We have found that Business Process Management yields substantial and sustainable performance improvement over the traditional organizational structure. By actively documenting, analyzing, improving, and maintaining business systems and processes, the organization is in an excellent position to systematically improve both efficiency and effectiveness while simultaneously providing a superior customer experience.
Continue Reading: Why Business Process Mapping Makes Sense for Your Business
Challenge the way you think about work. Download the free eBook today to learn:
How to map business processes
How to create a business system diagram
How to transform your business